The Devil



Alias:

Satan, Lucifer, Beelzebub, Belial, etc..

Age:

N/A

Species:

Devil

Gender:

Male

Affiliation:

Hell

Occupation:

King of Hell

Martial Status:

Single

Status:

Deceased

Allies:

Damien, Sith Empire

Enemies:

God Almighty, Mammon
The Devil, otherwise known as the fiend, satan, etc., is the ruler of Hell and is one of the
Antagonists
within the storyline.
Role: Antagonist
Alignment: Dark, Evil
Appearance
Edit
Personality
Edit
Battle of the Gods Arc
Edit
The Final War Arc
Edit
Powers & Abilities
Edit
The Devil
Strength:
Speed:
Endurance:
Regeneration:
Fiend Form
Edit
The
Lucifer Form
Edit
The
Belial Form
Edit
The
Dragon/Leviathan Form
Edit
The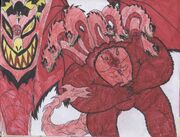 Enhanced Strength:
Endurance:
Durability:
Blazing Hell:
Demon Summoning:
Inferno Destruction:
Fire Breath:
Crimson Sea:
Blood Shield:
Flight & Levitation:
Hell Tendrils:
True Inferior Form
Edit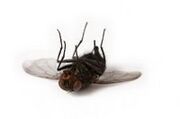 When Mammon finally defeated the Devil, he then held in his hand the fiend's true form: a dying fly.
Relationships
Edit
Ad blocker interference detected!
Wikia is a free-to-use site that makes money from advertising. We have a modified experience for viewers using ad blockers

Wikia is not accessible if you've made further modifications. Remove the custom ad blocker rule(s) and the page will load as expected.